Gift Baskets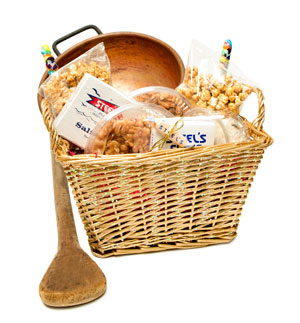 Boardwalk Brittles
The Boardwalk Brittles gift basket gives you an extra portion of our delicious peanut brittle to crunch on. The boardwalk must be close by!!!! This basket also has a fine mix of our candy favorites, so you still get your fill of fudge, salt water taffy and other fine treats.
The contents for this gift basket includes the following items.
1/2 lb. box of fudge
1/2 lb. box of salt water taffy
12 oz. of peanut brittle
12 oz. of glazed nuts
6 oz. bag of popcorn
8 oz Creamy mint sticks

Please Note: Chocolates will be shipped at your own risk when temperatures are warm. Candies are not shipped in ice packs unless arrangements are made prior to purchasing and appropriate shipping and handling is charged.

Steel's Fudge | 2719 Boardwalk | Atlantic City, NJ 08401 |
(609) 345-4051