Combo Boxes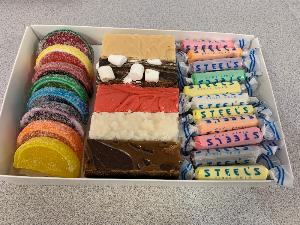 Taffy,Fudge & Fruit Slice Combo
Taffy,Fudge & Fruit Slice Combo: 1 Lb Assorted Taffy, 1/4 Lb Fruit slices & 3 Sticks of Fudge. Pick your own Fudge flavors.
If you would like specific Taffy or Fruit slice flavors please indicate in "Extra ordering instructions" in check out.

Please Note: Chocolates will be shipped at your own risk when temperatures are warm. Candies are not shipped in ice packs unless arrangements are made prior to purchasing and appropriate shipping and handling is charged.

Steel's Fudge | 2719 Boardwalk | Atlantic City, NJ 08401 |
(609) 345-4051